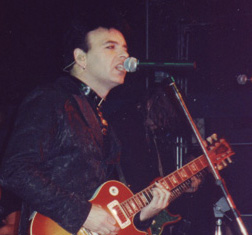 UPDATE 3/26/2006 IF YOU HAVEN'T BOUGHT JAGGED YET-GET YOUR ARSE OUT THERE-PRONTO!! GARY HAS OUTDONE HIMSELF-"HAUNTED" IS AN ABSOLUTELY BRILLIANT SONG-ALONG WITH "FOLD"- and the rest of the CD isn't bad either LOL!!
Upon updating this site today I realized I had not done any work here since 3/23/03 when I was going on about "HYBRID" and "ANCIENTS," shame on me. I will not be this lazy anymore! I will give this site the updating it deserves....it's the least I can do for Gary after he gave us this beyond words CD!!
AVitD is proud to have had a "voice" since February 13, 2000
Welcome to my little corner of the "WEBB". I am but a voice in the dark, but now I have the medium to speak (or shall I say write) of a musician that I have appreciated since... Ahh "in cars..." I hate to even say that "Cars" is when it all began. Don't get me wrong; there is nothing wrong with the song "Cars". I just grow so tired of unenlightened people and the same old response...you mention Numan and they say "Oh, Cars... Is he still around... Is he still alive... Is he still making music?", etc. I feel for them, they just don't know what they're missing. Luckily for me I never lost touch. I finally got to see him in concert in 1998, and after waiting 28 years it was a dream come true...
If you have any comments on my site, please email me. I would welcome making friends with anyone who possesses the fine taste of being a fan.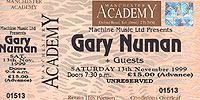 Visit NuWorld, the official Gary Numan site.
Special Thanks to:
Gary Numan, for without him these pages would not be necessary.
Valerie Burgess, thanks to her expertise (in more areas than one) these pages have been brought to life! Also she deserves credit for the photos because I was too busy to take any. (I had other things to do like watch the man!)
Heather Burgess, her art captured the moment!
(Also, thanks girls for coming with me and not totally trashing me when I acted like a school girl.)

| | |
| --- | --- |
| | WEBB counter |