Shepherd's Bush Empire, April 15, 2000
The following is a review written by my friend Peter whom was lucky enough to attend the April 15th concert at Shepherd's Bush Empire. Photo's courtesy of another friend, Mike, who attended said concert. You know I am jealous : )
The Venue: Shepherd's Bush Empire 15th April 2000
Long queue outside in the rain, along with the usual "need any tickets" rip off brigade, kept waiting way past doors opening time, but the swathe of black clad hardcore Numanoids didn't have their spirits dampened. Inside there were three reasonable bars easily accessed (until the "shop floor" filled up) and the usual jostle for a good vantage point was top on the agenda. Balcony'ed Numanoids must have enjoyed a top draw position, but my pittance wages only ran to a "shop floor" ticket. A sell out good-natured crowd, full of expectation and anticipation set the scene for a good evening.
Support:
Well, about 6/10 on the support scale, interesting female drummer with fishnets and angel wings !!!, lead singer very excitable and energetic. Kept geeing up the crowd by counting down the tracks before "The Man" would be on. I have seen worse, all in all OK.
Main Event:
Due to a problem with the excessive intake of Guinness and Black, the running order is not accurate, if there is a problem with this, send your complaints to the brewery!! This is as good as my impaired memory allows !!
As the house lights dim, the baying Numanoids go frantic as Numan majestically enters the frame. With the frenzy raging he blasts into "Pure" to start the set (re-write of remixed 90's version of "Friends") due to be on the new album. Great track, prefer the "Friends" version but still powerful enough to satisfy. The lighting appeared to be as the "Forum" in '99, not as good as previous mammoth sets, but who cares, it's the experience that counts. Right hand bank of speakers were a bit wooly, but otherwise, in my humble opinion, the sound was good. Next up was the heartbeat into'ed "This Wreckage". Great version, strong bass-synth riffs, crisp keyboards, a good start to the sing-along, at least 75% participation. Next up was "Angel Wars" a great track off "Exile" which sparks Mr Harris into life, he enjoys the arm waving and bouncing around I am sure. He has brought with him an enjoyable different dimension to the live set up, still, I'm not sure about the top he wears ??!! "Films" was the next song I recall, the sing-a-long is given a boost with this song, piercing synths in particular stood out, Mr Orange is on form again, bless. Next comes the yea olde chestnut "Cars". "Cars" is "Cars" as is as was, still good value. By now, the sceptical bar staff that my vantage point allowed me to observe were starting to "get into it". At first there seemed to be a mickey take attitude to all concerned, however, as Gazza belted out his vibes as only he knows, these sceptics became more and more understanding, and by the time "Are Friends Electric ?" was in mid-flight, most of the bar staff arms were saluting in time with the "Woe-oh's" in perfect unison with the masses. Nice to see. Anyhow, next up was, for me, best track of the night - "Down in the Park". Absolutely stunning. The make-over Gary has implemented to this track is perfect. It is now far more moodier, darker, even mysterious. The set then took a diversion into good old material of a slightly quieter nature, which was most refreshing. "Remember I was Vapour", "M.E." were included in this section. It was cool to hear a current version of these classics, played, in my opinion, by the best band Gary has used so far in his distinguished career. "A question of faith" interrupted a couple of new songs from the forth-coming album (sorry memory of titles escape me) which sounded promising incidentally, and another relatively new classic "Dark" displayed the new "power chordy" approach to the current Numan style. The main set closed with the ever present "Are Friends Electric ?", complete classic in every way, the only sad this is that this usually signals the end of the main show, just the encores to follow. On this occasion they included "Magic" and ended with the brilliant "Jo the Waiter", the best sing-a-long ever !!! All in all a beast of a night well worth attending, I like to hear "Noise, Noise", "Bleed" and "Scar" live, but I am not complaining, a worthwhile evening spent with fellow Numanoids doing what we like doing best.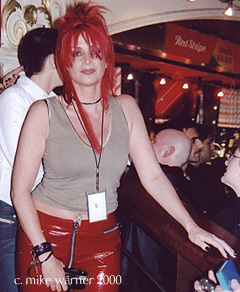 review c. peter williams 2000
pictures c. mike warner 2000