9:30 Club-Washington, DC April 17, 2001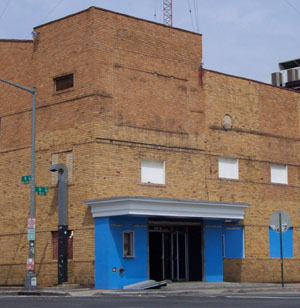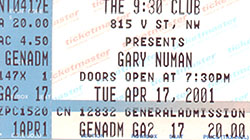 The man has now come and gone. As always he was grand despite a few sound glitches.
Well it is Sunday, the 29th and I thought it time to sit down and type my thoughts about Gary's first stop on this tour. The day finally arrived. Unfortunately since it was a Tuesday I had to go to work. A few times throughout the day I periodically called the club to see if cameras were allowed. I kept getting the, "call back later, we will know two hours before the show," answers. I should have known then this meant trouble. I left work an hour early just to be safe BUT as usual "work" played a role in what happened that night. Next time I will take the day off. Valerie, Heather and I left at a fairly decent time to get there but good old DC traffic foiled our plans. Again there would be no time for dinner (a frequent occurance when we attend concerts during the week). So over an hour later, around 6:50 we arrived at our destination. But sadly when we came around the corner of 8th street I saw the line. I knew then I would not be in the front row but I was not phased (too much).
The 9:30 Club now has parking!! Little did I know till I read the fine print in the newspaper on Monday that it was PAID parking and you had to get a parking pass through ticketmaster. And of course nothing would be sent in the mail as it was the day before the concert when I found out so I would have to get it at will call. Valerie pulled the car up and dropped Heather off to stand in line and I proceeded to will call for the "parking pass." Upon arrival at said window I found out that I didn't need a pass; I could just go to the parking area and show my ID. I walked around the corner, met Val and drove up to the gate. Mind you there are no markings whatsoever if this is the right parking or not. (Is this Howard University parking? Would the car be towed?) We pulled in and a guy sitting in a red car motioned us to stop. We did and he asked for some ID. Val flashed my license, he looked down at who knows what and motioned us along. We parked and I then placed my 4th call to the club to see if cameras were going to be allowed. As with the previous calls I still had no diffinitive answer as I was told, "oh just bring it along as we still don't know." So we locked the car in the secured parking lot and went to find Heather. Our place in line was about 20 feet away from the end of the club. It was about 7:00 now and we would have about a 45 minute wait before entering the club. We had a great chat with some people whom had driven in from Norfolk (sorry I forgot your names-email me if you read this) They had never seen Gary live!! I knew the feeling as the Exile tour was my first so it hadn't been that long ago.
Luckily our chat made the time pass quickly and before I knew it the doors opened. We had to wait while belongings were searched, I stupidly didn't think much of this until it was my turn! It was at that time the club employee told me NO CAMERAS!! Great... The kindly employee told me I could put said valuables in the office or back in my car. I opted for my vehicle but as I turned to leave he told me to be very inconspicuous when doing so. (Gee, quite frankly the thought had crossed my mind to stand in the middle of the parking lot, arms flailing and scream at the top of my lungs "2 cameras for the taking, a 35mm and a digital, they're not even mine, they're Duane's and the digital is about a week old, he wouldn't mind!! Have at it." Right.) The girls went inside to find a nice place to stand for the next 4 hours while I walked back to the secure parking lot and deposited said items under the seat of my hopefully inconspiuous car and locked the doors.
When I came around the corner the line was still as long so I asked the kindly 9:30 employee who checked my bag if I could cut in line-he allowed such, thank you. I found Valerie and Heather, they had found a nice place about 3 rows back from the stage. Very nice but not what I had hoped. Quite frankly I have been spoiled as the last two (only two) Numan concerts I had been to I was in the front row. Also they had a rail now in front of the stage which took up another six feet. My mind raced, no camera, no need for a great spot for pictures, crowds, 3 to 4 hours of standing OR SIT up in the rafters with a perfect view to the right of the stage...HMMMM Upstairs we all went and I am sure the girls were happy with that plan also.
Well time passed slowly it seemed but we had a good time people watching. One guy in particular kept us thoroughly entertained with his dancing or could it be called flailing about to the music. He really didn't stand out to much in the crowd. It could of been the twitching but I think it was more his lovely shirt emblazoned with "Got Crabs" or perhaps it was his Carnival of Carnage jacket..no it had to be the leopard stocking cap(extended version).
I guess it was about 8:45 when the opening act arrived on stage, Gwenmars. Not bad at all considering the fact that I really don't much care for opening bands. I want what I came for a.s.a.p. Heather liked them enough to buy their CD. I really did like their song "She Hung the Moon ". Their set ended about 9:40ish. It was at this point I was truly glad I had been sitting all this time as it would be another 45 minutes till the man himself set foot on the stage. The crowd had been pretty subdued, but kind during Gwenmars. But as the lights went down faint whispers of Numan..Numan...turned to shouts....and as if by magic... he was there before us!!!
I left the lofty perch, my "step" seat an found a nice spot on the floor right in front of the railing with nothing between me and my view of Mr. N. I had great plans of writing every last song down that he sang, in order-HA! NOT...These are what I remember weeks later as I write this: RIP/Pure/Metal/Are Friends Electric?/Down in the Park/Prayer for the Unborn/My Jesus (personal favorite)/Remind Me to Smile/Cars/Films. Well that's the extent of my limited memory. I loved the show. Being as it was the first show on this tour there were a few glitches but nothing that bothered me. As with the other two times I have had the priviledge to attend a Numan concert I was very much satisfied (that is not to say I don't want more). Concert lasted about 90 minutes. (Memory)
At 11:45ish we disembarked the club and walked to the car to HOPEFULLY get the camera. Talked to (sorry never got your name) a guy in khaki vest. Read about meeting Gary here.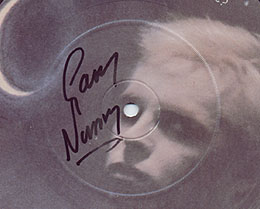 Below link to an article in Friday (the 13th's) Washington Post's Weekend Section.
c. 2001