Birmingham Academy February 15, 2001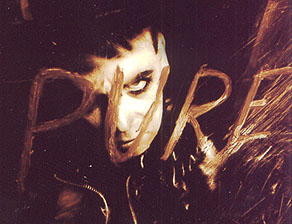 The following review was written by Peter Williams.
The Venue: Birmingham Academy 15th February 2001
By luck or judgement, arrival at the Academy was as easy to get into as a home match at Hamilton Academicals, and what's more, it wasn't raining !!!! There was no queue, just friendly bouncers checking for home made explosive devices, tape recording machines and illegal contraband. Inside, a generous "shop floor" accompanied two large bar areas, and an upstairs gallery for those in the "know". NIN "Things Falling Apart" entertained the masses whilst the crew busied themselves getting the set ready. A well supported gig in a friendly, jovial atmosphere, with the normal interruption of "Numan !!!!!" piercing the air at regular intervals.
Support:
Excellent. 9/10 on the support band scale. A band called "Little Hell" playing lively original material. Very energetic, good guitars, good drummer and great lady vocalist. I would arguably say that they are the very cream of support bands I have endured over the years. I wish them well. What's more, there was some kind bod handing out free Little Hell CD's during the performance that is well worth a listen.
Main Event:
Ensuring carefully monitoring of the intake of Guinness and Black, nervous expectation was in abundance as I awaited another epic encounter with the Godfather of Electronica. The Academy acoustics were good, and the sound was just one big eruption of fat bass, pounding drums and piercing guitar power chords. The throng of Numanoids, and I am sure plenty of first time inquisitive types bayed with intense excitement as the house light dropped out and the stage began simmering and vibrating to the rumble of rampant bass synths. Like a bolt of lightening the stage lights touchpaper ignited like a magnesium explosion. Numan, energetic, committed and passionate began his intense public aerobic workout to music. Where does he get all his energy? There is no other like him. Each song is performed with utmost professionalism and commitment. "Pure" blasted out; it is such a great opener. It is upbeat, powerful and kicks off the sing-a-long with vigor. From the first note, the band was tight, in fact very tight. All disciplines were on top form. Keyboards marshaled stoutly by Mr Orange, Richard Beasley on the skins was as aggressive, accurate and rhythmical as I've heard him. Mr Harris on the six string was impressive as ever, his windmilling arms, general "bouncability" and sharp chord striking are a threat to Pete Townshend's legend, and Mr Numan just gets better on vocals. Rather than waffle about this song was next followed by that song, the remainder of the Pure album made up the play list, Rip, My Jesus and Walking Shadows stood out in particular, the best saved for the final encore. A Prayer for the Unborn has rightly taken over "Jo the Waiter" as a warm down anthem. It is just so encapsulating. Gary delivers the lyrics with real passion (for obvious reasons) but it does not come across as macabre. It is a real classic piece of music which deserves critical acclaim. The Pure album cascade was intermittently separated by what I could described as classic makeovers. Down in the Park, Films, Voix, Metal, Cars, Me, I Disconnect From You to name a few. Tracks that have been inspirationally updated and improved by Gary in recent years, enhancing their credibility at initial release. I traveled to the concert with friends, and when "Are Friends Electric ?" struck out, I turned to them and said something like "Blimey, he's playing this early tonight" when in fact as good as eighty minutes had elapsed, and I was so immersed, time had passed me by. The concert seemed to be over as soon as it started, which is a sure sign that it was a belting good gig. I hope, if any readers were there, they will echo these sentiments. I was a tad disappointed that there was no Exile or Sacrifice tracks in the play list, such as Dark, Bleed, Scar, etc.I am not complaining as that is only a personal preference, the choice by Gary was superb. What was nice to see was the number of "little fellah's" in the crowd. It is refreshing to see that the younger generation (i.e. under fifteens) are having exposure to real musicians, and are not being exclusively brain washed by boy bands, fabricated super groups (Hear Say type) and are having the opportunity to see a real show. Well done parents !!!!
review c. peter williams 2001