The Truth is Out There...
We come to one of my favorite TV shows...X-Files. Please note that Fox invited me to his office one day and told me to have a seat. I did behind his desk. Ya right....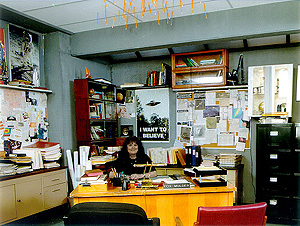 The girls and I went to the aformentioned X-Files convention just before they released the last X-Files movie. NO cameras indeed. Therefore an autograph mag cover of Nicholas Lea instead... But, yes, that is a picture of him! My friend Duane went to an air show and got to meet him. I am so jealous.
I have met Dean Haglund, who plays Langly. Also Rob Bowman, the director of many episodes as well as the movie.
back | home