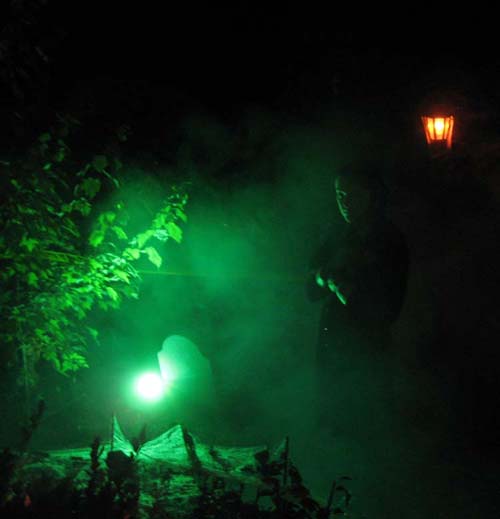 Halloween 2008
wElCoMe-to the OthEr sIdE
Good evening, you foolish mortals. You have entered this realm of your own free will....perhaps you may leave with some of your mind still intact.
Another October has come and gone and along with it, this years installment of our version of HaLLowEEN!
Here are a few comments we received this year...
"Their veterans, great as always."
"I love your decorations and they scared me a little bit."
"This is the scariest house."
"This house is GREEN!!"
"OK, it's great but I am going to give ypu a run for your money next year!" (That sounds like a challenge to me! Where's my gaunlet?)
"I took pictures of this place last year. Isn't it great!"
Pertaining to Wednesday's decapitated doll head-"I'm going to call Barbie cause you murdered her sister!" That doll head got quite a few comments (good job Heather).
I felt like a celebrity as people felt the need to take pictures of us and the house-HA And it was great to have so many adults know who we were for a change :) Some highlights of the day. I found a bird skull in my front yard whilst I was decorating and SLUGS decided they liked Mr. Caffiend Head-GROSS!
By the way if you hadn't yet guessed who Heather and I were portraying...I was Morticia & Heather was Wednesday. I don't know if Heather was C. Ricci's "Wednesday" BUT I was portraying the one & only "original" Mrs. Addams (Carolyn Jones) from my childhood favorite tv show (no disrespect Angelica).
Well, I bid thee a good evening and thanks for swooping in. Please stop back by later as I will be adding more photos. ^v^
back
home