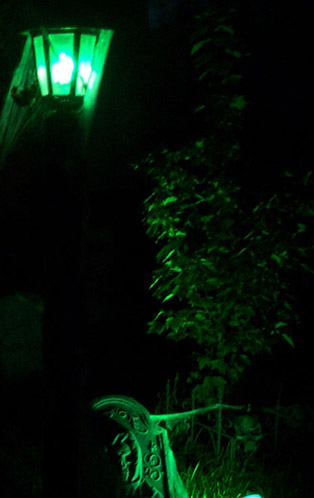 Halloween 2007
wElCoMe-to the OthEr sIdE
Good evening, you foolish mortals. You have entered this realm of your own free will....perhaps you may leave with some of your mind still intact.
Another October has come and gone and along with it, this years installment of our version of HaLLowEEN!
Memorable quotes of the evening: "I love your decorations!" from an annual chaperone. "I like my new outfit!" His son's comment after his father's words of wisdom. "You look awesome!" Quoted to me by some guy who was in his late teens (to old to be trick or treating BUT obviously good taste, nonetheless). "How come the Zombies are passing gas?" Some little girl with her gaggle of cheerleaders fiends. (This comment was made as we decided to torture them with the fog machine) Her mother asked if she could take a photo of the girls and that she loved out Bates Motel NO vacancy sign. "You should go to one of the conventions dressed like that." Erin, Heather's fiend. Other numerous words on the house, loving the decor, that it looks great ever year, more photo's, etc.
For some reason we were left with tons O candy. Want some?
By the way if you hadn't yet guessed who Heather and I were portraying...I was Goth Dorothy & she was Goth Princess Leia. Toto did not want to dress for the occasion, he just sported a red bow & sat in his "when I'm in an emo mood " black basket.
back
home