Cozumel 2003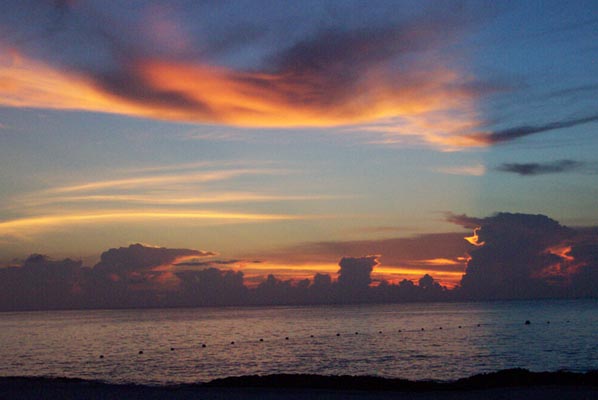 Have you ever been to Cozumel? It seems as only a chosen few even know where it is! I have told many people that I went there on my vacation and a blank stare comes over their faces until I mention Cancun. While I was in Mexico I never went to Cancun but I have no regrets about missing it either. If I want Miami Beach I will go to Miami Beach!!
Well my vacation was fantastic!! I must say that this is probably the first time in my life that I actually relaxed. It was also the first time I have truly been out of the country (with the exception of Niagara Falls-Canadian side). Duane & I spent 10 days in the land of awesome snorkeling, nature, Mayan ruins, Margaritas (ugh), Tequila, Kahlua, motorbikes, Iguanas and Hibiscus galore. If you ever plan on going please read through my journal writings and the photo's below.
DAY 1: We departed for the airport via cab at 5:15 AM - a totally annoying time to have to be up and ready to depart, but we all know how it is these days with flights and security. One thing I noticed at that time of the morning is that there was no line for check-in!! We completed that quickly only to have to schlep the bags to X-ray. Do NOT lock your bags with a lock. Instead, use a tie wrap. They X-Ray bags and go through any that look "funny" - which is fine by me, but you may find that your bag is unsecured on the other side. They like it much better if you use tie wraps that they can cut and then kindly replace after rummaging through your underwear, q-tips, etc. (My take on this is GO FOR IT! I would rather have my bag manhandled (or womanhandled... personhandled?) than someone get a bomb on the plane!!) With that done it was time to check my body. I loaded my purse and carry-on bag on to the conveyer belt only to have a gentleman (a guy of 18 or younger) instruct me to take of my sandals. I looked at him with amazement as my sandals are flat and have a sole of maybe a quarter of an inch BUT again no problems - better safe than sorry. I walked through the metal detector with no beeps, alarms or errors! I happily put my now dirty feet back into my "safe" sandals and proceeded to the gate. Since it was 6:15 AM I would have to wait 1 hour and 50 minutes before boarding. Have I ever said I hate flying? Well I do and I fidgeted a bit, but I was so tired that I wasn't jumping out of my skin, per usual. Finally we boarded the plane and of course left late but that meant less of a layover in Charlotte. When I boarded the plane and found my seat it was time to take a pill to calm the ole nerves. It must have worked well (for the 45 minute flight) as I do not remember much with the exception of Duane waking me up a few times to stop my snoring (how embarrassing). We had seats behind the bulkhead. I found this enjoyable because I could stretch my legs a little!! The flight was over before I knew it and now it was time to wait for the next flight from Charlotte to Cozumel.
We left a little late from Charlotte but that was ok - at least we weren't waiting on the tarmac. Again we had the bulkhead. Again I was comfy. This time Duane had someone to talk to while I slept (and snored) most of the flight. She was a 27 year-old surfer who was going to some remote place in South Western Mexico where she could surf and not encounter anyone who spoke English. She was a recent Masters graduate, whose major was Spanish and she looked forward to speaking only in the local language and catching some great waves. The flight went smoothly and quickly again and before I knew it we were there!!! It was so bizarre to get off the plane and have to walk down steps to the tarmac. Man, flashbacks to the days of yore! It was around 2:00 PM and the first thing I noticed was the palm trees and the heat! Wow it was hot and when we walked into the airport it was hotter as they had no A/C in the arrivals terminal!! As the guy stamped my newly acquired passport with its first entry, I realized that getting into Mexico was a breeze. But then again we still had the LIGHTS to go through. We waited for our luggage, all the while having to listen to the numerous guys behind their numerous podiums hawking their wares: boat trips, tours, hotels, etc. All there to be sold the moment you set foot in Mexico. We retrieved our bags and noted that one (mine) had been gone through back in the good ole USA (as the tie wrap was now orange). No big deal. Now it was time to play-red light green light!! Every person (or a family as a group) must press a button before you are allowed to go any further. If you are lucky enough to get green you can pass go. If you get red, sorry Charlie. They take your bag and search it. Luckily we got GREEN, maybe because the family before us got RED!!
We walked outside and found a man holding a sign with Duane's last name on it! He had ordered chauffeur service to take us to the hotel. How nice not to have to deal with cabs and such when you first arrive. I tried to get a photo of the driver with the sign, BUT my battery decided to die right then!! He loaded our bags and it was off the hotel. We stayed at the Presidente Inter-Continental. It was rated as the best on the island and they weren't wrong. Let me say this before I go on, the only bad thing that I can say about this hotel is our room was probably a half a mile from the lobby. I would have loved to have a golf cart to go to and from our room. We were on the end of farthest away from everything that one wanted or needed at the hotel BUT other than that, it was fantastic. There were more plus's than minuses staying way out yonder. The pluses were that our room was an upgrade meaning we weren't in a high rise. We had only one floor above us. We had our own private "patio" with walls between us and the other guests, 2 lounge chairs, one chair, a table and a hammock, that stretched between the two walls (good for lying out in the sun and drying clothes). Our steps led right to the beach and of course the "pyramids". Yes we had our own pets while there. Two pyramid shaped structures made of cinder blocks for the local iguanas. There were also trees and many bushes of blooming Hibiscus - red, coral, white, yellow, pinks, all just beautiful!! And last but certainly not least - the white, sandy, man-made beach, palapas, the coral, the beautiful sky and the otherworldly blue-green water. Being that FAR down we rarely saw any humans unless they were the hotel employees "vacuuming" the sand (which was done on a daily basis) and workmen building a new palapa. Our room was huge with two doors, one leading to our "backyard patio" and one to the "long walk". We had a floor-to-ceiling window, a king sized bed, marble floor, a huge full-length mirror in the hall and a huge bathroom!! Our room was kept immaculately clean by the fantastic housekeeping staff. I cannot say enough about the housekeeping staff and our ever-helpful bellman (Hi Joel). The hotel has a magnificent pool (near the lobby), two restaurants (one outside under a huge palapa and one inside), two ping-pong tables (near the pool), and a scuba and snorkel palapa where you can rent equipment. More on hotel later!!
Well we unpacked and decided it was time to hit the beach. We changed into our bathing suits, got the snorkel gear together and went out to the beach. Being that this "beach" was man-made, we had a ladder that led into the ocean. The water was quite over our heads! I must confess that I have a thing about sharks and I was a little leery the first time going in. I didn't like the fact that there was no beach "per say" to run up if being attacked. Being that I hadn't been in the ocean since I lived in FL (80's) and had watched so many "shark attack" shows and the fact that I had never really snorkeled, I wondered if I would be doing much of this. I got in and went "wow..wowie wow..wow" (to quote Christopher Walken)... I had never been in water that clear and so full of life that I could "see." The coral was alive with black SPINY Sea Urchins and the crystal clear water was teeming with "lots o' fishies"!! To say the least I was impressed but still leery. (A PS here: I lost the heel strap of one of my new, never-been-worn-before, swim fins.) We didn't stay too long because we knew that it was time to get ready as we had made plans for the evening. So it was off to shower and get ready for our nighttime adventure into the city of San Miguel.
Duane had been researching Coz for quite some time before we left. He had "met" a few people on-line who were a great help. One incredibly helpful person was Tony Rome and he was who we were going to meet that evening. He has lived in Coz for years and owns his own restaurant, The Sandcastles Castle Gate Bar. He used to own another restaurant (shown in one of the pictures below), but it is no longer open. So it was time to walk the "long walk" to the front of the hotel to grab a taxi. One thing you must learn when taking cabs in Coz - know where you want to go. If it is a particular restaurant, be sure of its location before getting a taxi. Otherwise, the cabbies will try to talk you into another restaurant, or tell you: that the one you want is no longer open, that the food is bad: or, that they don't know where it is. Why would they do this? So that you will go to a restaurant from which they can collect a commission! DO YOUR HOMEWORK. We arrived at the Tony's restaurant with no problem and met Tony when we walked in.
Upon entering, you walk through a courtyard that has a small open-air bar with stools and is filled with the melodies of two caged parakeets, chirping happily away. The restaurant is a giant, screened-in palapa - no A/C - but equipped with numerous ceiling fans to move the air. (Most of the restaurants here have no A/C.) It has a large dance floor and also provides Karaoke!! Tony himself is a fantastic singer and if asked he will happily sing whatever you ask!! While he loves Frank Sinatra, his library of music is quite extensive. The food is great and the margaritas - well, being that I had only ever had one in the States - seemed superb. There was only one problem. I think I had too many. As I said, the food was great. Duane had ribs and I had steak and shrimp with a baked potato, mushrooms and onions, fantastic garlic bread and the best carrots I have ever had (Tony's secret recipe). After dinner we hung out to talk to Tony and later, per request by other guests, listened to him sing a few songs from Phantom of the Opera. The teenage daughter of one of the other patron's got up the nerve and sang "Respect". She did a great job! And so the margaritas kept coming, from Tony of course. Duane doesn't drink much, so after having one of them he was done. But me being me, I felt that we should show our appreciation and so I kept drinking mine AND his!! (I found out the next day that the waiter (via Tony) kept bringing more... Mmmmmmmm.) About 11 "Flame Throwers" later it was time to leave. I was fine. I didn't feel like I had had one but I think I had 9 more than I needed. We thanked Tony profusely for his great hospitality and went back to the hotel. Upon arriving back and getting into bed I found out what Duane already knew - I had at least one too many. I felt like they hadn't hit me at all but the evidence showed up shortly in the form of me not making it to the bathroom in time to get rid of the drinks that "hadn't even affected me." Poor Duane was kind enough to take care of me!!! Needless to say I cannot vouch for the greatness of anyone else's margaritas, as I never touched one again the rest of our time there!! The bottom line is his were good and obviously strong!!
DAY 2: We had breakfast at our hotel - a wonderful bounty including, eggs, made order omelets, bacon, sausage, pancakes, assorted Danishes, bagels, breads, cereals, pineapple juice, (fantastic) cantaloupe juice (Duane loved!!), fresh fruits, local morning fair, yogurt, dried fruits, salmon, chicken tortilla's, coffee, well the list goes on. My favorite, of course, were the chocolate croissants and the ever-present bottles of H2O. The cost was $17.00US (170 pesos) each plus gratuity - a little pricey for breakfast but the waiters were at your beckon call and the view was grand. There is nothing like sitting out on the "veranda"! A huge palapa to shelter you from the already hot sun, ceiling fans whirring, the ocean stretched out before you and the notable birds flying to and fro looking for some table scraps. All kidding aside, there were some local birds (which reminded me of a cross between starlings and crows) that came by once and a while. I found it enjoyable to have a close touch with local nature.
Following breakfast it was off to San Miguel for a little shopping. The first stop was back to Tony's to thank him for his wonderful hospitality the evening before and so Duane could write a few e-mails. I felt like I had lived there all my life as Tony greeted me with a big hug and a "Hey Mama." He asked how I was feeling. (I wonder why he asked that…) I did feel good by the way even though I had majorly over indulged the evening before. Duane and he conversed for a bit and then it was off to explore the lay of the land.
Shopping in San Miguel is an event all its own. Our first trek was along the main street in town: shops on one side of the road and the ocean on the other. The cruise ships were lined up and the streets were teaming with touristas (Oh, wait, I was one). I was amazed at the size of some of the establishments throughout Coz; some no bigger than my bathroom back home! If you're looking for jewelry, Tanzanite especially, there is plenty to be found. Every other storefront seemed to sell precious metals with men and women standing out in the heat, in suits and ties, howling at you to come in and save!! I felt a bit like I was walking through a carny!! Personally I didn't come to Cozumel to buy Diamonds, Gold and above mentioned (well truth be told I did want some silver). I was soon to learn that this beckoning, hawking and inviting you in was the local's way of selling. I never like to be approached that way when I shop but after a while it all seems so normal. Don't get me wrong - I find the people of the area very friendly and accommodating - but it just took some time to get used to their way of showing off their products. After all, you have a guy two shops down selling the same thing for less (maybe if he is willing to barter down lower). The "strip", as I will refer to it now, really caters to the cruise ships. After all, they depend on the ships for the majority of their business and the ships are not there long enough for the passengers to do some major exploring farther into town.
Even if you're not looking for jewelry you can find many interesting things to purchase and some great restaurants. In front of one of my favorite stores (very touristy items but fair prices) a man sat making hats out of palm fronds. I almost purchased one but I look like a dork in a hat. Cigar shops aplenty - selling real Cuban cigars!! One storefront had a full size cartoon likeness of Castro, puffing away on a Cuban cigar. His "uniform" was open collar shirt (chest bare) and a fig leaf over his crotch!! Ok, enough said.
We came across the Duty free shop, filled with perfumes for the masses. I, of course, had to visit because I had no fragrance with me. I DID, but when I had unpacked yesterday I grabbed my newly purchased Eeyore towel from my suitcase and completely forgot that at the last minute I had wrapped my CK One (also newly purchased) in said towel. I pulled the towel out of my bag and SMASH...as per my luck the limited edition, never been used RED BOTTLE shattered into a hundred pieces on the marble floor! Now that I think of it that was the second thing that was lost/broken the first day. Anyway, the store was filled with people from the cruise ships. I wonder why the stores ask if you are from a cruise ship. Commissions? Hmmm… Who gets the benefits: the consumer, the cruise lines or the locals? If it is for the locals then that is ok.... BUT that is another story. I could not find CK One so I bought some other fragrance. Nice but at the time of this writing (6 weeks later) I am getting tired of it. With purchase in hand it was off to troll the streets again. Next stop the liquor store with lots and lots of - you guessed it - tequila!!! If you happen across the store "Tequileria International" stop by and say "Hola" to Nelba. She will be happy to let you have a sample or two of flavored tequila. I tasted all of the flavors: Coconut, Banana, Strawberry, and Cinnamon. I fell in love with the coconut tequila. Yes I bought a bottle - great stuff. Mmmm good!!
Well, I am sure that if you have read this much you are now bored and "just want the facts, ma'am." So I will try to be brief. Yeah right. The bottom line with shopping is...SHOP around. Go OFF of the main drag and BARTER. I am not the bartering type so it's good that Duane is more knowledgeable in that area. San Miguel's Plaza Central (Town Square) is very pretty, with lots of nice trees to under which you could siesta. There is a large clock tower that serves focal point. I purchased some painted feathers (turkey) from a man at a kiosk. He and his family paint the feathers with various themes. I bought three. It seems that the more I bought the cheaper they became… (obviously.) Duane helped me barter on the price. On the main drag we found an ATM machine that dispensed pesos, and a photo shop for a new battery for my camera.
It was getting late so we decided to eat. With the myriad of places to feast where did we end up? Burger King!! Mooch's idea! Don't ask… You can check his site out later. After feasting on a Burger and Hershey pie we grabbed a cab and headed back to the hotel.
Swim time again: first the ocean and then the pool filled with water so warm it was like Bathwater! VERY WARM, I think this was the first and last time I went into the pool. It is a very nice pool and deck area with a view of the ocean but when you have adventure before you why would you swim in chlorine! We went back to the room, showered, dressed and went out under a palapa to watch the sun set. MAGNIFICENT!! The sky was a kaleidoscope of colors and the clouds were spectacular: hues of pinks and grays. It was the best sunset I have ever viewed. We were tired, so we went back to our room and watched television. We had a New York Station, a Nashville station and various others.
Day 3: We woke up to what we thought was a gecko or lizard. As we got closer to it we found that it was a baby Iguana, CUTE! He was kind enough to stop for a breather on my mesh beach bag and we snapped a few shots. After his 15 seconds of fame we carefully showed him the escape route. We showered and then went out back to feed the pets some hibiscus and some apple graciously provided daily by our hosts. (A fruit basket everyday!) Our breakfast was again at hotel but this time we sat right at the end of restaurant, practically right in the sand. The Birds (AH) were bold and crazy at this end. They would swoop in and out. One sat on a chair grabbed a muffin from a plate (the patrons had just left). I make it sound like they were horrendous, but they were not, and I found it quite comical. Breakfast was followed by over two hours of swimming!! Another hint: use lots of sunscreen and apply it frequently. We used 30 but that didn't apply it often enough to prevent me from getting sunburned on my back and the back of my legs. DUH!! The fish were amazing!! I am not up on the names of fish but the pictures will speak for themselves. I think some are sergeant majors and one of which I called a pipefish or maybe needle nose. At this snorkeling session I had not brought my disposable camera and the battery died in the REAL camera so I didn't get have any good shots of the "needle/pipe." But (the big one that got away) it swam so close to me!! (We did get a picture of him or his cousin later). We then swam out to the sunken barge. Man, it was freaky. While there I spotted a VERY large barracuda (do things always look bigger underwater?) in a holding pattern under the tip of the barge. Of course, I had not worn my fins that day, since I lost the back of said fin on the first day I didn't want to be bothered. Well I was wishing I had because the current was very strong. I would look down, and then look up to get my bearings, look down again to find I was several feet away from where I had been before. Let me tell you it wasn't easy getting back. Suffice to say I wore my fins every time I went in from then on. (Duane was kind enough to give me one of his straps since his fins stayed on his feet without them.) Man what a work out!
DAY 3 LATER: Dressed, cabbed, and off to our first authentic Mexican meal at The Sonora Grill. Great ambiance. The dining room is upstairs. It is a colorful place. With tablecloths and linens in blues, reds, yellows. The walls were adorned with pottery, guns, swords, pictures, paintings, etc. We sat next to an open window and listened to the street noises of mopeds, cars, and people going to and fro. As for food, the Salsa was out of this world (even though it played havoc with my internals later)(PS - would eat it again but hang around longer to use facilities)(PPS I will NOT tell the story of my plight - too graphic). GET the Lime soup - it is fantastic!! I have since tried to recreate said soup and came close, but it's better if you're in Mexico!! I had the garlic shrimp, carrots, broccoli, potato and good garlic bread. And last, but not least, I was serenaded by three very talented Mexican gentlemen. They sang for us three songs, one of which was about Cozumel and love. That was all I could make out. I need to learn Spanish before I go back!!
Following dinner we trekked to find a grocery store. By the time we found it my stomach was rumbling (but enough about my stomach). I had never seen a store like this before!! Among the items for sale were washing machines, clothes, stereo components, televisions, food, cleaning supplies, etc. But there seemed to be neither rhyme nor reason to the stocking of shelves. One isle in particular had hugistic jars of mayonnaise next to hugistic cans of Del Monte corn next to hugistic bottles of bleach next to hugistic bottle of some kind of acid with a skull and cross bones on it!! A lot of the frozen cases were empty!! I wanted to explore this place a little further BUT at this point in time I had no inclination as my stomach was really churning its contents. Grabbed a cab back to the hotel, showered, relaxed and then to sleep.
DAY 4: Slow day. No breakfast. Duane tried to get a hold of Sherri, someone he met online, to rent a jeep but to no avail. So it was off to town again. We shopped around, and visited Baskin Robbins (right of the square) and then went to the Museo de la isla de Cozumel (Cozumel museum). It is an interesting little place where you can find out how Cozumel formed and became what it is today. Also some interesting artifacts and verbage on sailors and pirates… Argggggggghhhhhhhhh. The featured exhibit while we were there was the work by Frida Kahlo. It was nice to see her art up close and personal as I had seen mucho items in the local shops with her portrait. I vaguely remembered seeing her creations in the past but did not know anything of her. I found her work to be a little different, therefore she intrigued me and I became thusly eager to find out more about her. (I have since researched her on the web and seen a movie about her starring Selma Hayek). I only purchased one thing here - a map of Tulum.
It was time for lunch and where did we dine today? Well since it was real close - HRC (Hard Rock Café)! Cripes! Come to a foreign country and eat like I'm at home. Food was the usual HRC fare, very small restaurant, but great atmosphere & music. After lunch back to trolling again. The only interesting thing on this walk was I met up with a guy and his parrot selling ice cream from a cart. After a few words with the man, "Crazy," as the bird is named, got on my arm. The man then gave me sunflower seeds and told me to put one between my lips. Crazy then proceeded to take the sunflower seed from my mouth. Next he told me to stick out my tongue, I did and Crazy took the seed off of my tongue. OK, what was I thinking?! Who knows where that beak has been!! Duane snapped a few pics and gave the gentleman and CRAZY some pesos. Didn't I just love being the center of attention in the crowd that formed? NOT!!! Back to the hotel, dinner at our usual palapa restaurant, very good there for dinner also but pricey. Night Night.
DAY 5: Better luck today with the jeep. Duane got a hold of Sherri and the jeep arrived at the hotel around 10:00 AM. Duane spent quite a while going over the jeep and also took pictures (a smart thing to do so they can't come back later and say you scratched or dented it). (PS also always get the extra insurance). No breakfast and it was off to the ruins of San Gervasio. BUT let me warn you, it's a jungle out there and it is a hike in the heat and buggy. Bring plenty of water. We had remembered the bug spray so the bugs weren't bad but we only brought 2 bottles of water and we sweated gallons!! It was worth the trip. I enjoyed the walk into the past and the nature we encountered. We saw green and gray iguanas (or was it the same one just changing his camouflage gear?), turtles, an armadillo and multitudes of butterflies.
Since we had only planned on keeping the jeep two days we decided it was a lovely day for a ride, around the whole island. (PS Only two gas stations on the island! Make sure that you gas up before giving the rental back). We embarked on our journey with the top down, which (duh) later revealed sunburn on the top of my legs!! Back to today's adventure. The drive is many miles with nothing but jungle on either side. There are a few houses along the way but most are back off the road behind scrub and you can't see them. A few homes that were on the roadside sold fantastic looking blankets that were marked $2.00. There is no way those could be so cheap as the detail was spectacular. The run of the mill blankets in town were at least $5. All of a sudden out of the blue you came to an opening of the jungle and there before you lay the roaring ocean with Mezalito's on one side and Senor Iguana's on the other. Both places were crawling with tourists so we didn't stop. They sell cheap... really cheap beer, souvenirs, etc. In hindsight, we should have stopped there for replenishment because we were soon to experience the only big negative thing on our trip - Paradise Cafe across the road from Rasta's. Don't get me wrong. The scenery is beautiful, right on the beach. The reggae was jammin' but the service, well... We walked through the bar and seating area as we wanted to sit right on the beach at a table under a palapa. We sat and we sat and we sat and 10 minutes later still no one came over to wait on us. It's not like they couldn't see us, they were waiting on various other tables. We left. Disgusted. Never going there again. We stopped to take some pix of the raging ocean beating on huge outcroppings of coral at El Mirador. It's amazing that all over the place, everywhere you read DO NOT SWIM on that side of the island and what do we see. You guessed it - such idiots. People have been died there due to the undertow.
We finally found a great place to eat on our way back to the hotel - Playa Palamar. On the beach of course, under a palapa, great shrimp cocktail and fantastic quesadillas, folks very friendly. It was back to the hotel for snorkeling. We saw skates, flounder, and starfish. This time I lost my swim shoe (well, really Duane lost it)! The excitement of the evening was to go to an upscale grocery store, Chedraui's, to by some junk food for breakfast, etc. This store was pretty much like the one the other night but it was cleaner, colder and had a lot more items to buy such as tires, stoves, food, milk in boxes on shelves, etc. All the baked goods are sitting out in the open. Meaning a kid could walk by and swipe his finger through the icing on a cupcake, or a fly could stop by for a nibble or two. Some of the breads and pastries looked so scrumptious but no I don't think so. Back to the hotel, room service-good, the best was dessert. Chocolate cake with Raspberry sauce for me and coconut ice cream for Duane. WOW! Night.
DAY 6: Snorkeling - out to barge again, this time with swim fins! Flounder, quite a few starfishes, 2 ft. or larger barracuda, parrotfish by the tons, sergeant majors, a very small jellyfish, sea urchins and a half eaten starfish :(. Came in from the water, rested, a pina colada; time to drive into town. Was going to see Tony but found it, like a lot of places, closed up. It was Sunday and there were no cruise ships so a lot of places are not open. Went to one of the two cemeteries on the island. Very colorful, candles burning, pictures of the dearly departed in small mausoleums, beer, tequila, flowers of a real nature, the plastic variety and some silk. We went off for a drive to the north of San Miguel and then back to the hotel. We hadn't eaten anything with the exception of a banana that morning so we ordered a room service pizza. Ehh. Not the best I have ever had but it had loads of cheese though!! TV...sleep.
DAY 7: Well most of the morning was wasted waiting for the Avis guy to come pick up the jeep. First off, we couldn't even get him on the phone!! When we finally did answer, "Oscar" said he would have someone there by 11AM. Well 11 arrived and left, 11:30 arrived and left and Duane was back to room dripping with sweat and a little upset. Another call to "Oscar" and this time the excuse was they were very busy and would get there as soon as they could. We really didn't care when they picked it up as we had no plans of using it that day but we didn't want to get charged for another day and understandably so. So it was another trek for Duane to the lobby to leave the key. Of course, now there was a line of check-ins, so he had to wait again. Oh, we left our map of Coz in the glove box so that makes 3 things lost now!! :) BY the way we also lost the remote to the TV!! We think it went out with the sheets. Let me take this time again to compliment the housekeeping staff! Our room was always immaculate; we had turn down service with chocolates, wonderful terry robes left everyday in our room adorned with hibiscus. Swans made out of towels, hibiscus laden-fantastic. Off for more snorkeling and then a cab ride in to town. Dinner at Palmera's. Drinks good, cheap and huge - I had a Pina Colada, Duane had a Strawberry Daiquiri. They had equally large Margaritas but I had sworn off of those. Food, well I had chicken enchiladas but I wouldn't order them again. The chicken was shredded and tasted bland, like a whole chicken had been cooked with the purpose of using it as a soup base. Duane had the steak tacos and loved them. Being that this was (as with most) an open restaurant we were sitting right on the sidewalk where a poor dog sat and stared at us the entire meal. You could tell she had a recently had litter of pups somewhere and she looked hungry. We were torn, whether to feed her or not. If we did she might come into the restaurant and get chased off by the waiters. Also, we didn't want to encourage any behavior in her that could lead to problems for her after our departure. So we ate are meal staring into those sad looking puppy eyes. Finally, just before we were going to leave we threw her some bread. She turned her nose up at it (Maybe I should have given her the chicken?). That is, until another dog came along. She quickly grabbed it in her mouth and waddled off. So if you want to watch the bustling crowd, listen to the waiters bark to the public to come in for a meal OR if you want a good drink or cheap beer (all beer in Coz is cheap, even cheaper than buying a bottle of water!!) stop by. Other food maybe good there, but we didn't go back before we left. We stopped by Tony's for a Sol and a piece of good Key Lime pie and then it was back to the hotel. Night.
DAY 8: The day for which I had been waiting - the trek to the mainland and TULUM!! We caught the ferry at 10:00 AM to the Mainland (arrived 10:30 - $16.00US pp roundtrip). While we were boarding, Duane's sunglasses fell off of his head and broke when they hit the concrete pier. Needless to say, he was not a happy camper wandering around in the incredibly bright Mexican sun with no eye protection! From Playa del Carmen we caught the bus to Tulum, $4.00US pp one way. The bus ride was ok as it was air-conditioned BUT packed. It took about a half an hour. When we arrived they dropped us off on the main road and we had to cross "highway number 307" to the other side (without the chicken). We then had to walk about a quarter of a mile to the admission booth (37 pesos each admission), wait in line and walk a little ways more before we caught site of one of the first ruins. I would say it had to be in the 90's, most of the ruins are in full sun, no wind (unless you are at the top of the hill by the water) and I cannot put into words the humidity. BUT A TOTALLY AWESOME place. I could have explored for days. Many of the buildings are roped off. I understand the reasoning behind it, but I sure wish I could have explored the ruins. I would have loved to walk inside and look around. But, I am convinced that if it hadn't been roped off there wouldn't be anything left to look at. When you arrive at the cliff... ahhhhh spectacular!! The ocean was pounding below and there was a nice, albeit small, breeze off of the ocean. If I had picked a better time of year to vacation (and not high summer) I would have paid for a guide. I would have loved to listen to the history of the area. Oh, by the way, remember I said I bought a map of Tulum at the museum in Cozumel? Well guess where it was: back in the hotel room not doing anyone any good! DOH!! We were so hot that we opted to cab it back to the ferry ($30US or $300 pesos). While waiting for the next boat we ate lunch at McDonald's - hey sometimes we are just cheap. Back to the island at 3:30 PM. Time to SNORKEL - more fish, more barge, showered, dinner at the restaurant, great lobster bisque, shrimp Caesar salad, 2 great pinas and that absolutely fantastic coconut ice cream! Blah blah...
DAY 9: Our last full day in paradise. AM Snorkeling, the only thing to report from this snorkel session was that we came across some ASSHOLE man beating a sea urchin with a rock. I guess it must have jumped out of its home and attacked him. I wanted to go over and smack him myself but it wouldn't have done any good. PM Chankanaab, about a $3.00 cab ride from the hotel. At one point, during one of our many discussions of what we would do while in Mexico, swimming with dolphins came up. I love them and Duane wanted me to do it. I didn't. Now, of course, I wish I had. At this park you can swim with them (for a hefty price), go to a sea lion show, walk through the wonderful nature walks with recreations of many of the ruins throughout Mexico, sit on the beach, swim, eat, etc. We walked the trails and saw Macaws, turtles, and philodendron so big I could have used the leaves to make a bathing suit. Tired and hot we caught a cab to where else, town again for dinner. We ate at an excellent Italian restaurant called Prima. Fantastic fare. I had spaghetti, garlic bread, stuffed shrimp/cheese. Duane had a pizza loaded with the standard pizza meats. We both loved it!!
DAY 10: Woke up and went outside with my fruit basket and camera. The iguana's and I shared a breakfast of apple, banana, plum and their favorite - grapes. I snapped a few photos and went back in to shower and finish packing. I said goodbye to our room and walked the long walk to the front of the hotel for the last time. Joel had come to help us with our luggage. We chatted as the cab came, I hugged Joel goodbye, thanked him and then off we went. At the airport we did the bag thing. They opened almost all of the bags! Be careful where you pack your underwear. And if you have any open bottles of booze they won't let you bring them in your carry-on. My bottle of coconut tequila was in my carry-on and the woman took it out. I was so sad BUT one of the men came over and wrapped tape around the top so that it wouldn't leak and then they put it in one of the bags that I was checking. GLAD it didn't break! You are allowed to bring two bottles (I think) home. Went through the scanners and Duane's sandals set the alarm off :). It was now 12:00 and we had a short wait until 2:15 for the plane to leave. At least this portion of the airport is air conditioned, as it was truly one of the hottest days. It finally was time to walk the tarmac and climb the stairs to the plane. And 5 minutes before we were supposed to leave we took off!! I took a happy pill, slept, and ate the same food we ate on the way down, and then we were back flying over Charlotte. Funny thing is we kept flying over Charlotte, round and round. The captain told us that there was a storm over Charlotte and we would have to circle a bit. We did and then the captain came on again and told us that we had to divert to South Carolina as we were running out of fuel. So our plane and all the others that have been circling had to go to some other airport to refuel. We land, we refuel, we wait, we take off, we can safely land, and we are late, our connecting flight left. Only one more plane was going to DC. Said plane had about 35 people on the standby list. Suffice to say we did not go home that night. To add to the trouble, this was the day that the power grid went down from New York to Michigan! We (and many others) were stranded in NC. We were given an orange piece of paper that identified us as "distressed travelers". This got us a reduced rate at a nearby hotel. With no luggage to schlep (apparently it made it on to the plane to DC) we got a cab driven by the rudest cabbie we had ever experienced and went to the hotel. Got a room, ordered food from a local place at 11:00 PM, ate at around 11:45 and went to bed. Got up early in the AM and took the hotel shuttle back to the airport. Back on a plane and back in DC. Luckily our luggage had arrived safely the night before and hadn't been stolen. We grabbed it, cabbed it, and arrived back home at around 10 AM.
I had a fantastic time in Mexico and I would most definitely go again but man, it was good to get home!!
Page still under construction!! I will be adding more pictures soon. So many to scan and size, so little time. I have a lot of underwater shots that I need to add. Also, I will be adding links for good information on Cozumel. Check back!
back | home