Hand Cramps
Well you knew it would happen sooner or later. Yes the time has come when you are being subjected to my "art."
The sketch below is my rendition of the most important and misrepresented woman in Arthurian Legend, Morgan LeFay. This was created today, 9/13/00, while doing part of my real job, talking on the phone. A mere doodle of which I hope to embelish on in the future.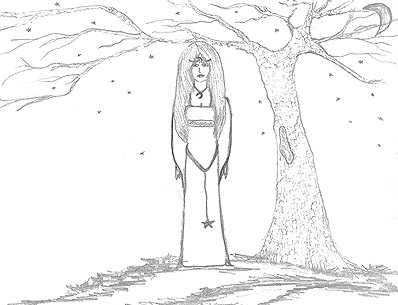 I had to many seconds to spare last night around 10:00 PM 6/25/03. I found a pencil laying on my desk and many blank pages in my sketch book and well....here is what came out of me.." 7/3/03 Well now a continuation of more "art"...I have felt the need over the last few days to sketch. Man I need to practice but then again what fun to create!!