Henryton Hospital August 30, 2008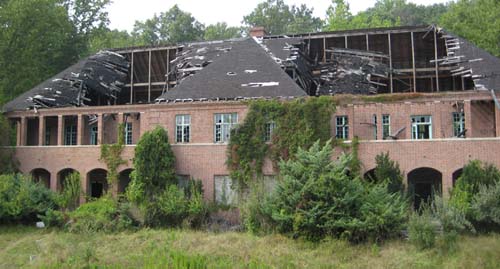 Due some beautifully haunting photographic work I viewed on Etsy I begged D(KS)S to take me to Maryland one hot Saturday afternoon in hopes of locating Henryton Hospital. The following are a few shots I took while there. Unfortunately due to the heat and the fact that I didn't dress properly (sandals-not correct footwear for traipsing around broken glass, etc.) we didn't stay long. I do hope to go back soon, perchance with a backdrop of autumnal color.
Since my visit I have tried to research it's history. It's a tedious process as there are pages upon pages of links to photo's taken by "other" amatuer photographers, like myself. (Just so you know I do appreciate your work.)
The following is an excerpt from the Baltimore Sun (12/07). "The abandoned Henryton Hospital opened in 1923 to treat African-American suffering from tuberculosis. In 1962, it became a facility for the developmentally disabled, and it closed in 1985. After that point, neglect began to claim the facility."